Hi,
Thanks for checking things out. If you have any questions or comments about what I've written here, feel free to connect with me on social media.
Sincerely,
Gordon Harmer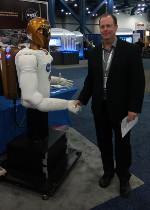 A little about the author:
Gordon is one of those multi-talented quiet types who don't get a lot of attention. Instead of flapping his jaws, he spends a lot of time thinking and doing. After burning through many brain cells, he's discovered that our approach to space exploration is inherently flawed. More importantly, he's come up with a realistic path forward and shares it here on this website. His main goal with Space Centric is to make these ideas public, with the hope of creating positive change. He has never worked for NASA or a NASA contractor, and has no conflicts of interest … except when having to choose between skiing or sitting in front of the computer….
Space Centric, LLC
5703 4th Ave #1512
Ferndale, WA 98248
(FYI this is a post office box)